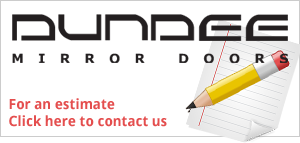 All our aluminium extruded trims are coated with durable, long lasting finishes that will look beautiful for years to come.
Our brushed silver trim is fully anodised and compliments a variety of our coloured glass and wood veneer panels.
Our classic gold trim is fully anodised and compliments our bronze mirror to give a soft luxurious look.
Our ice white trim is fully powdercoated and gives a crisp clean look to our mirror or wood veneer panels.
Our dark chocolate trim is fully powdercoated and when used with mirror has a traditional look that matches well with darker bedroom furnitue, or when used with our white glass and decor bars gives a stunning oriental look.
Availability: All our trims are available ex-stock so no lengthy lead times.
NEW TO OUR RANGE we have now added an Oak trim to our range
This new trim is fabricated in steel and is stunning.
We have a large variety of panel options to use or combine, such as mirror to create an illusion of spaciousness, coloured glass to give a light bright airy feel to your room, a selection of real wood veneers to compliment any bedroom furniture and also a range of mirrors with sandblast or brilliant cut designs to suit any individual taste.
Availability: Mirror products available from stock, all others on request.